Coleco released a line of really cool tabletop and handheld games to match the arcade coin-ops and the home conversions. Some of them are really sharp looking, having been modeled after coin op machines and bearing really cool designs.
Catalog #1:
Coleco Hand Held Games catalog from 1982

This catalog shows some really cool hand held games. The Coleco hand helds that were actually shaped like arcade machines are included in here, as are their other flat handhelds that weren't quite as well known. Some of the pictures are VERY cool, check them out!

Click on the thumbnail for the full image: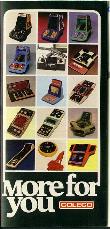 These handhelds are the ones that are shaped really cool. I personally own the Pac Man one, and I think it's the more common one in existence. I have never actually seen any of the other ones, so I can't comment on whether or not they exist but I'm sure they do. The Pac Man doesn't play as cool as it looks, though, and has a veryannoying waa waa waa to it.
Some more of Coleco's handheld games, these being sports games. The ones that featured the LEDs and the beeping sounds. Novel but hard to play, in my opinion.
The Bowlatronic, Alien Attack, and the pretty interesting concept of AC adapters by Coleco, the Perma Power Battery Eliminator.
---
Go back