This is a catalog for Coleco's 2600 VCS and Mattel Intellivision line. If you have any Coleco carts for the 2600 or INTV, more than likely you've got either Donkey Kong, Mousetrap, or Venture. Everyone's played at least one of these. On the whole, the Coleco conversions to the VCS aren't that great when compared to their Colecovision counterparts. However, they still have some cool artwork in their catalogs.
Catalog #1:
"Coleco Game Cartridges" Catalog from 1982

This catalog is very colorful and has photos of the coin ops and the Marquee logos. Also is a small blurb describing the game and which systems it was available for.

Click on the thumbnail for the full image:



The cover. An amusing fact about the pictured carts
is that no coleco cart label EVER looked like that!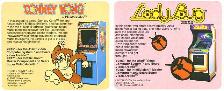 Cosmic Avenger was never released for the 2600 VCS or the Intellivision.
Go back