Imagic had the coolest games. They brought out animation and colors in the 2600 VCS that were simply unmatched except by, perhaps, Activision. Demon Attack is one of my FAVORITE Imagic classics, followed closely by probably Microsurgeon. Imagic's titles for both the 2600 VCS and the Intellivision were excellent pieces of work. Their carts were among some of the coolest looking, too, with the slick finish silver labels and colorful box art.



Catalog #1:
"Imagic Video Game Cartridges" Catalog from 1982

This catalog is very colorful and has screen shots and box art, and also ads for Imagic's Video Storage Center and their Numb Thumb Club. Anyone ever join this? These ads really get you pumped about going out and dropping $50 on an Imagic cart!

Click on the thumbnail for the full image:
The cover and inside cover, featuring the ever classical television set with 2600 VCS, with a pile of boxed Imagic carts. Demon Attack, one of Imagic's BEST games imho, is featured.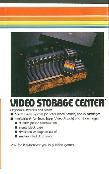 Here are two pages featuring Imagic's very creative and colorful box art, and their "video storage center". Imagic's silver boxes are easy to identify and they just plain stand out. Check out the storage center, but be sure to watch out for the simulated wood grain paneling!
Advertisements for Fire Fighter, Atlantis, Star Voyager, Trick Shot, Riddle of the Sphinx and Cosmic Ark.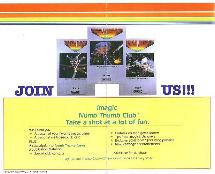 Here is the entry form and the foldout ad in the catalog for Imagic's Numb Thumb Club. I think somewhere there's a scan of the neat-o membership card that Imagic sent you when you sent in the $2 to join. Wow, those were the days! Now you have to pay $30 or more to join stupid game clubs. Unfortunately, likemost things, the Numb Thumb Club died around the time of the crash.
---
Go back