Go to Page 1

Go to Page 3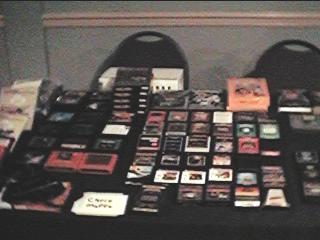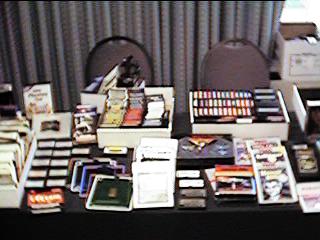 Some guy's collection. I really don't remember whose this was.

Yet another person's collection. Many people brought their collections to show off, and it was great to see some of the cool cool stuff people had..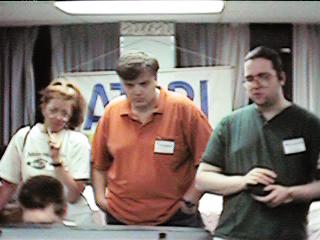 Here we have Pat Strobel (Xtrix), Chris Coleman (Steempy) and Dan Mowczan (Danox)

Alan Ricotta (Mimsy) on Friday afternoon.
Craig Maloney (Snap-l) in the Zildjian shirt and Mick St. Clair (Saintmick) in the foreground. Mick was big on the PC Engine during the con and bomberman bomberman bomberman. heh heh. Mick is a kick ass dude..

Here Kevin and Ben struggle to get the TV to work right for the 2600 games we wanted to play. Kevin had his own homebrew RF modulator which he wanted to hook up, but for the lack of an RF adapter...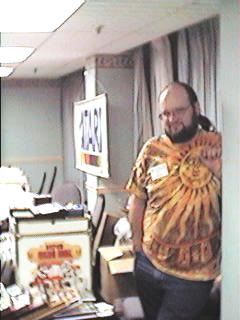 Merc just chilling out, saying "Buy my stuuuuuuuuufff, buy my stuuuuuufff...." heh

Kevin Horton looks through Danox's magic tupperware boxes full of UR stuff. Think you'd seen lots of URs before? Not until you've seen THIS stuff.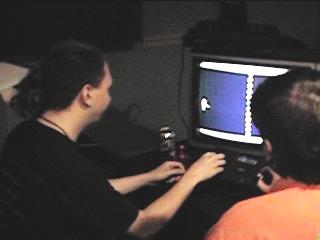 Scott Crawford (_sdc_) and Steempy compete in the Pong tournament. Pong was the only real -official- tournament at the con, but it was still a heated one. I won it, btw. :P

Arne and Steve (another Econ administrator) battle it out during their pong match.
Kevin Horton shows off his SID player in more detail.

The box that Danox's Cubicolor resides in. Remember Devin Knight, everyone's best friend on rec.games.video.classic? This is one of the pieces from his stash.
Anthony Chapman (Antman) was one of the people who made it all the way from overseas. He and Ross came all the way from Britain. Antman is a wicked cool guy and had some really cool knicknacks from around the world with him.

Howard Warshaw again, chilling out.
Here's the Track and Field matchup between Mercury and Mick. Merc had a ton of Track and Field controllers with him, and we banged it out late into the night. Man, that was fun. Antman is there behind Mick.

Kevin Horton plays one of the hundreds of games that he has on his awesome 2600 hardware emulator, Bankzilla.
---
Go to Page 1

Go to Page 3