Go to Page 1

Go to Page 2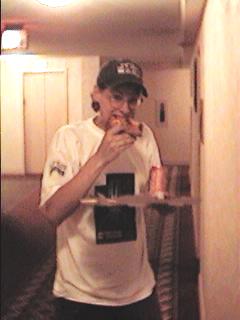 Deleto the dutch boy stuffing his face with pizza. We all had pizza Friday night late and crowded around in a huuuge huddle cramming our face. Man that was fun.

Arne doing likewise.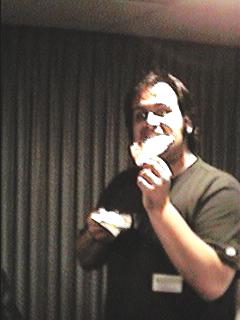 This is Ross. He arrived somewhat later Friday evening and was severely jet lagged, but was still a way cool guy and is here eating some pizza.

Antman giving it all he's worth!
Here is a portion of the incredible number of boxed ERs and URs that Danox brought with him. I mean, you would NOT believe the stuff that he had.

The SwordQuest Challenge poster that came boxed in with SwordQuest Waterworld. I would kill for this poster.
An overhead view of Danox's ER boxed games. wow.

A view of yet another person's collection.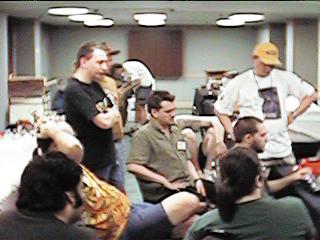 A group of people huddle around to watch Kevin Horton demonstrate his 2600 hardware emulator, Bankzilla. Kevin is a technical genius and his vision doesn't stop with small things. This puppy will play as many 2600 cart images as you can cram into the eproms in it.

A couple of Econ attendees getting some Pitfall! action.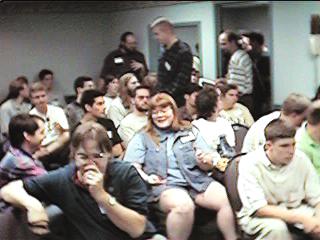 Two photographs of the room during Howard's talk. It was crammed to the max.
In case you ever wanted to get up CLOSE and PERSONAL with Mercury Hess, NOW is the time!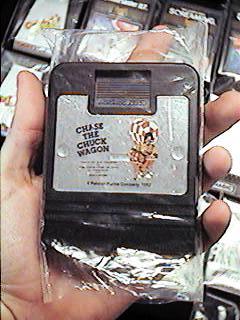 And course, no con would be complete without a Chase the Chuckwagon.
---
Go to Page 1

Go to Page 2