These are the photographs I made with the digital camera I took along to Philadelpha at the con. No complaining about blurriness!! -- Kalla
Go to Page 2

Go to Page 3



Arne Kuilman (Kid-EZ) and Roloff de Jeu (Deleto) of the Ancient Atari Pal * Division are seen here in full effect. They brought along tons of cool pirate stuff to the con as well as their sick dutch humor.

Here Arne and Roloff give us their pirate cart slideshow, which was simply amazing. We learned more about pirate carts than we really ought to know.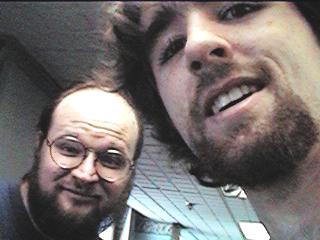 Mercury Hess (InfoGoon) proudly displaying the Atari Banner that he acquired from another dealer present at the con. Don't YOU wish you had one of those on your bedroom wall?

Mercury and I (Kalla) staring into the camera.
Here, Kevin Horton (Kevtris) shows everyone a SID player that he constructed from spare parts lying about his bedroom. It sounded excellent, and used the -real- SID chip there boys and girls.

Scott Crawford, Electronicon man himself. Scott was pretty cool when he wasn't busy attending to the con matters themselves.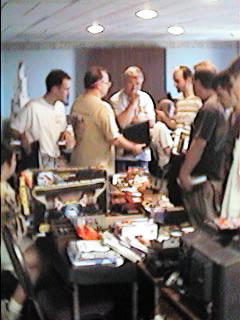 Howard during his talk Saturday afteroon. 50 people crammed into that little room, and we would have let him talk all night if he had wanted. Man, he was such a cool guy!

A myriad of people trading, talking, and reminiscing.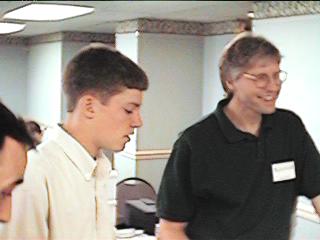 A dealer and his tableful of carts, and below the table tons of books, boxed games, magazines, and other stuff. This particular guy had somewhat high prices but we made away with some steals from his stash, heh heh heh.

Jonathan Denmark (Yakman) was able to come to the con because his dad brought him!. All the way from Oklahoma City! That's his dad there on the right. Yakdad even got in on some 5 player Bomberman..wow.
Here we see Christopher Coleman (Steempy) getting some...Oink it looks like there. We had this like 27'' TV hooked up in one of the con rooms and used it to play games in altogether uncalled for sizes. Heh heh. The Decathlon tournament was held on that tv. arrrrrrrr

A guy brought along an entire Atari Jaguar development system and talked about the stuff he was working on for it. Describing the Jaguar as a dream system, it made be feel ashamed that it failed. He had a Jaguar controller decked out with a rotary add on in the bottom and we played Tempest 2000 with it...Cool beans.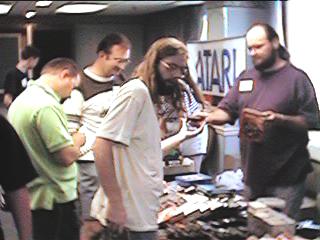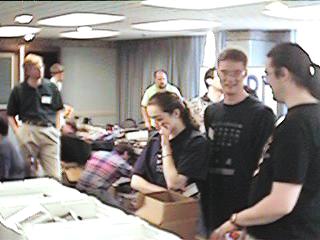 Mercury selling some stuff, and Ben Strobel (XStrobe) feeling himself.

Dan Mowczan discusses classic gaming with a Saturday attendee and his girlfriend. Dan tha man brought his usual pile of unbelieveably rare stuff for display, and it was... uh .... indescribable. Boxed this, boxed that... wow. He and I also talked Pinball too.

Go to Page 2

Go to Page 3
---

Page Created by:
Walton C. Gibson, kalla@aspark.ece.uiuc.edu

Go to Kalla's Gaming Dimension


This page accessed
times.